Typical session
---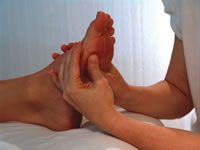 What can I expect?
The first session starts with a consultation which will provide me with information about your lifestyle, general health and medical history. This is completely confidential. This will be followed by the treatment.
After that I will ask you to remove your socks and shoes and then get you comfortable in the treatment chair which is a zero gravity chair so you feel very supported and cradled. It is advisable, if possible, to try and relax after the treatment to maximise the effects of the treatment.
Each treatment plan is unique to the client and will vary depending on the client's needs and conditions. A treatment plan will be discussed at the first session but as a general guide to gain the most benefit from reflexology it is recommended that you have 4-6 treatments on a weekly or fortnightly basis to start off with, and then have monthly appointments.
---
How long will each session last?
An initial consultation will take 1 hour 15 minutes to allow for the clients medical and lifestyle history and follow on treatment sessions will take 1 hour.