About me
---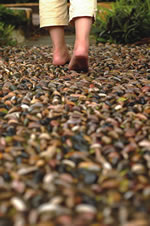 Fiona Over
FMAR, BA (Hons), ITEC Dip Holistic Massage
Further Reflexology Training – Pregnancy Reflexology, Hot Stone Reflexology and Mindful Reflexology
I worked in Marketing for many years and decided that I wanted to train as a Reflexologist as Reflexology has been very helpful to me over the years (20 plus years) for my general health and well being.
I trained at The London School of Reflexology at Regents College in London and qualified in 2007. I am a registered Member of the Association of Reflexologists (FMAR)  www.aor.org.uk. In 2015 I had the honour of being made a Fellow of the Association of Reflexologists.
All members of the Association of Reflexologists must undertake 'Continued Professional Development' (CPD) as a condition of membership. This means that I keep up with developments in Reflexology and complementary health, attend advanced courses to develop my skills and be part of other local professional groups. I hold an ABC Level 3 Diploma in Reflexology and an ITEC Diploma in Holistic Massage.
I am the Group Secretary for the Surrey, Hampshire Borders Area Reflexology Group which is an active Area Group that represents the Association of Reflexologists (www.aor.org.uk) and is made up of fellow Reflexologists in the local area. We meet once a month and get together to discuss Reflexology developments or updates, have discussions on relevant health topics and listen to speakers from other therapies with the aim of improving our knowledge base.
I have also trained in Pregnancy Reflexology (pre- conception, pregnancy and postnatal) and also Spinal Reflexology (A more stimulating form of reflexology working along the spinal reflexes to clear the neural pathways to certain organs and systems. I was taught by Louise Keet who is regarded highly in the Reflexology profession and has recently published 2 books and written many articles and papers for national newspapers and magazines on Reflexology. I have also trained in Advanced Reflexology Techniques (ART) with Tony Porter, Hot Stone Reflexology and Mindful Reflexology.
The Reflexology Bible by Louise Keet published by Hamlyn
Hand Reflexology by Louise Keet and Michael Keet published by Hamlyn
---